Thursday, 23 May 2013 20:06
Concluding the saga begun in Adam Green's hit 2006 thriller, Hatchet III follows the vengeful Marybeth (Danielle Harris) as she continues seeking out a way to destroy Victor Crowley (Kane Hodder), a hulking, seemingly-invincible sociopath rampaging through a sleepy Louisiana swamp.
Read more...
Thursday, 23 May 2013 20:00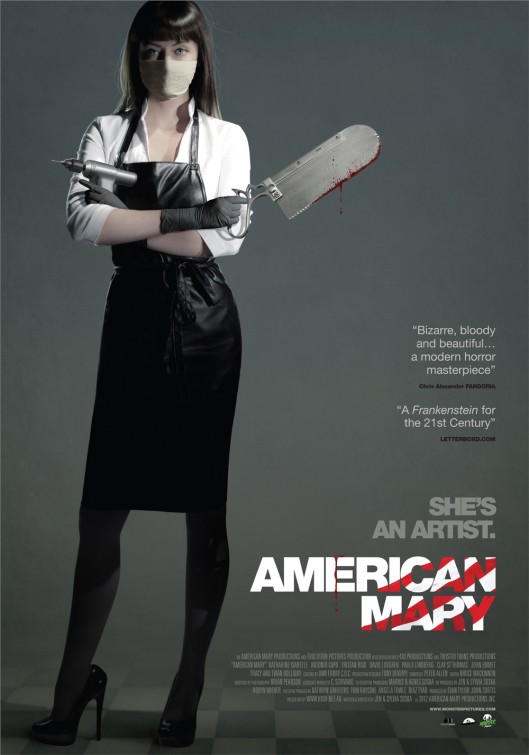 XLrator Media will be releasing AMERICAN MARY on DVD and BLU-RAY on June 18, 2013. The film is written and directed by Jen and Sylvia Soska aka "The Twisted Twins" and stars Katharine Isabelle.
Eli Roth and Clive Barker are huge fans of the twins and the horror community has deemed them the "Next Big Thing in Horror." AMERICAN MARY is a body-modification horror, revenge thriller and psycho drama, distinguished by a riveting performance by Katharine Isabelle.
Read more...
Thursday, 23 May 2013 19:51
Two- time Academy Award nominated composer Marco Beltrami scores World War Z, in theaters June 21, 2013. Starring Brad Pitt, James Badge Dale and Mireille Emos, World War Z is the story of a worldwide Zombie pandemic, toppling armies and governments as it spreads across the planet. Beltrami worked on the score while filming was taking place for over two years, collaborating with director Marc Forester to come up with a score that would be as experimental as it was traditionally orchestral. Beltrami based all the melody, harmony and rhythm of the score on the U.S. Emergency Broadcast System signal siren. Beltrami also incorporated non-traditional percussive elements into the sonic palette, including animal bones. World War Z score album will be released on Warner Bros. Records Tuesday, June 18, 2013.
Read more...
Thursday, 23 May 2013 19:48
Alamo Drafthouse is proud to announce the launch of its annual Summer Kids Camp screenings, a series of films programmed specifically for families. Not only can families head to their local Alamo to spend quality time together in air-conditioned entertainment bliss, but admission to all Summer Kids Camp films is 100% free.
"Here at the Alamo, many of us have childhood memories of heading to the movies. We want to share our love of movies with our whole community and provide options for affordable family entertainment," said Amy Averett, Alamo Drafthouse Director of Private and Community Events. 
Read more...
Thursday, 23 May 2013 19:46
Just when the streets seemed safe, a serial killer with a fetish for scalps is back and on the hunt. Frank (Elijah Wood) is the withdrawn owner of a mannequin store, but his life changes when young artist Anna (Nora Arnezeder) appears asking for his help with her new exhibition. As their friendship develops and Frank's obsession escalates, it becomes clear that she has unleashed a long-repressed compulsion to stalk and kill. A 21st century Jack the Ripper set in present day L.A., Franck Khalfoun's MANIAC, produced by Alexandre Aja (THE HILLS HAVE EYES, HAUTE TENSION), and composed by Rob of the band "Phoenix", is a re-boot of the William Lustig cult film considered by many to be the most suspensseful slasher movie ever made - an intimate, visually daring, psychologically complex and projoundly horrific trip into the downward spiralling nightmare of a killer and his victims.
Read more...
Thursday, 23 May 2013 19:43
Dorothy Strelsin Theater at Abingdon Theatre Company
312 West 36th St. 1st Fl. (Bet. 8th & 9th Aves.)
3 FRIGHTENING SHOWS ONLY!
Put SACRIFICEFF in PROMOTIONAL BOX CODE
for SPECIAL FRIGHT FAN $13 tickets!
Fri 8/2 9PM * Sat 8/3 2:30PM * Sun 8/4 8:30PM
For Tickets - https://web.ovationtix.com/trs/pe/9795894 
Tuesday, 14 May 2013 19:24
Anchor Bay Entertainment and RADiUS-TWC announced the Blu-ray™ and DVD release of SOLOMON KANE. The film was directed by Michael J. Bassett ("Da Vinci's Demons" and Silent Hill: Revelation 3D) and stars James Purefoy ("The Following"), the late Pete Postlethwaite (In the Name of the Father), Rachel Hurd-Wood (Peter Pan) and Max von Sydow (The Exorcist). The character Solomon Kane was created by pulp-era writer and mind behind Conan the Barbarian, Robert E. Howard. SOLOMON KANE heads to retail on July 16, 2013, SRP $26.99 for the Blu-ray™ and $22.98 for the DVD.
Read more...
Monday, 13 May 2013 00:00
Red Sea Media has assembled a strong slate in the last few months, including two new projects that the sales company has acquired worldwide rights for, excluding North America. Red Sea will be introducing the projects at the upcoming Marché du Film.
Read more...
Friday, 10 May 2013 00:00
NYC's Longest Running Tattoo Expo is next weekend at Roseland. It's a blast of a show with a carnival atmosphere with amazing artists from all over the world and vendors with cool apparel and other stuff!
http://www.nyctattooconvention.com/
<<

Start

<

Prev

1

2 3 4 5 6 7 8 9 10 Next > End >>


Page 1 of 21